Endocrinology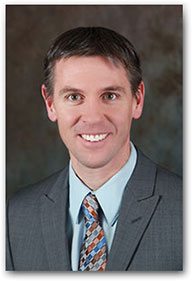 Ryan Hungerford, MD
Dr. Hungerford is a board certified, fellowship trained Endocrinologist. He earned his medical degree at Eastern Virginia Medical School in Norfolk, Virginia.  He completed his internship and residency in Internal Medicine, and a clinical and research fellowship in Endocrinology, Diabetes and Metabolism at the University of Utah in Salt Lake City.
Dr. Hungerford is certified in thyroid and neck ultrasonography (ECNU) and serves on both the ECNU Examination Writing Committee and the Validation of Competency Panel, writing examination questions and reviewing submissions from endocrinologists throughout the country.  He holds additional certifications in DXA interpretation as a certified clinical densitometrist, and is an authorized user of radioactive iodine for the treatment of hyperthyroidism.
He is an active member of the Endocrine Society, the American Association of Clinical Endocrinologists, and the American Thyroid Association, and is the Vice President of the Pacific Northwest Chapter of the American Association of Clinical Endocrinology.
Hospital privileges include Rogue Regional Medical Center and Providence Medford Medical Center.
Dr. Hungerford is the proud father of five children. He enjoys spending time with his family, along with mountain biking and snow skiing.
Dr. Hungerford considers it a great privilege to be an endocrinologist and care for patients throughout southern Oregon and northern California.
DR. HUNGERFORD'S SPECIAL INTERESTS INCLUDE THE DIAGNOSIS AND TREATMENT OF:
Thyroid disorders including Graves' disease and Hashimoto's Thyroiditis
Biopsy of thyroid nodules
Type 1 and Type 2 Diabetes
Pituitary tumors and hormone deficiencies
Osteoporosis and metabolic bone disease
Parathyroid and calcium disorders
Adrenal tumors and cancer, Cushing's Syndrome and insufficiency syndromes